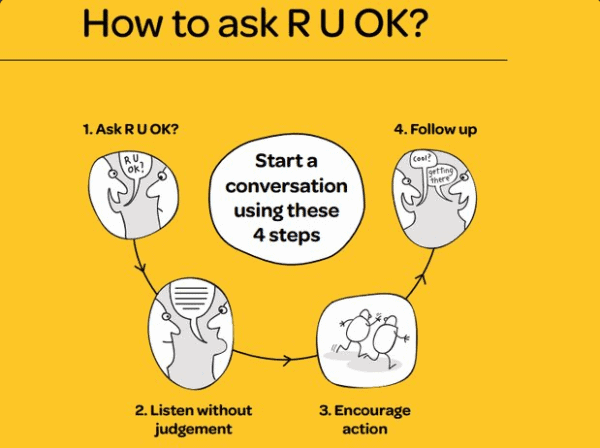 Getting ready to ask
Be ready
Are you in a good headspace?
Are you willing to genuinely listen?
Can you give as much time as needed?
Be prepared
Remember that you won't have all the answers (which is OK)
If someone is talking about personal struggles this can be difficult and they might get emotional, embarrassed or upset
Pick your moment
Have you chosen somewhere relatively private and informal?
What time will be good for them to chat? Ideally try and put aside at least an hour so you have ample time to have a meaningful chat
If they can't talk when you approach them, ask them for a better time to have a chat
Starting a conversation
Ask R U OK?
Be relaxed
Help them open up by asking questions like "How you going?" or "What's been happening?" or "I've noticed that you're not quite yourself lately. How are you travelling?"
Make an observation. Mention specific things that have made you concerned for them, like "I've noticed that you seem really tired recently" or "You seem less chatty than usual. How are you going?"
Listen
Take what they say seriously
Don't interrupt or rush the conversation
If they need time to think, try and sit patiently with the silence
Encourage them to explain
If they get angry or upset, stay calm and don't take it personally
Let them know you're asking because you're concerned
Encourage action
Ask them: "Where do you think we can go from here?"
Ask: "What would be a good first step we can take?"
Ask: "What do you need from me? How can I help?"
Good options for action might include talking to family, a trusted friend, their doctor or appropriate professional
Check in
Remember to check in and see how the person is doing in a few days' time
Ask if they've found a better way to manage the situation
If they haven't done anything, keep encouraging them and remind then you're always here if they need a chat
Understand that sometimes it can take a long time for someone to be ready to see a professional
Try to reinforce the benefits of seeking professional help and trying different avenues
You could ask, " Do you think it would be useful if we looked into finding some professional or other support?"
Useful contacts for someone who's not OK
Encourage them to call on these Australian crisis lines and professionals.
Lifeline (24/7)
13 11 14
Suicide Call Back Service (24/7)
1300 659 467
beyondblue (24/7)
1300 224 636
SANE Australia
1800 18 SANE (7263)
More contacts