National Mental Health Month – An Overview
"After many years of the Mental Health Foundation of Australia hosting Mental Health Week each year, in 2018, the MHFA hosted their very first and successful Victorian Mental Health Month. Due to this success, my goals is now to extend this awareness campaign to all states and territories of Australia. National Mental Health Month Awareness Campaign 2019 will occur between the 1st of October to the 31st of October.
This year, the Foundation has organised over 150 events across Australia. To facilitate this task, the Foundation has implemented a Multicultural Ambassadors program, which proved to be very successful during Victorian Mental Health Month 2018. The Multicultural Ambassadors program was an initiative I implemented last year, with the aim to reduce the stigma associated with mental health issues within culturally and linguistically diverse communities, an ever-present issue. We are thankful to Mr Huss Mustafa and Commonwealth Bank for sponsoring this program and allowing for many multicultural communities to be reached all throughout Australia in our mission to provide better mental health for all.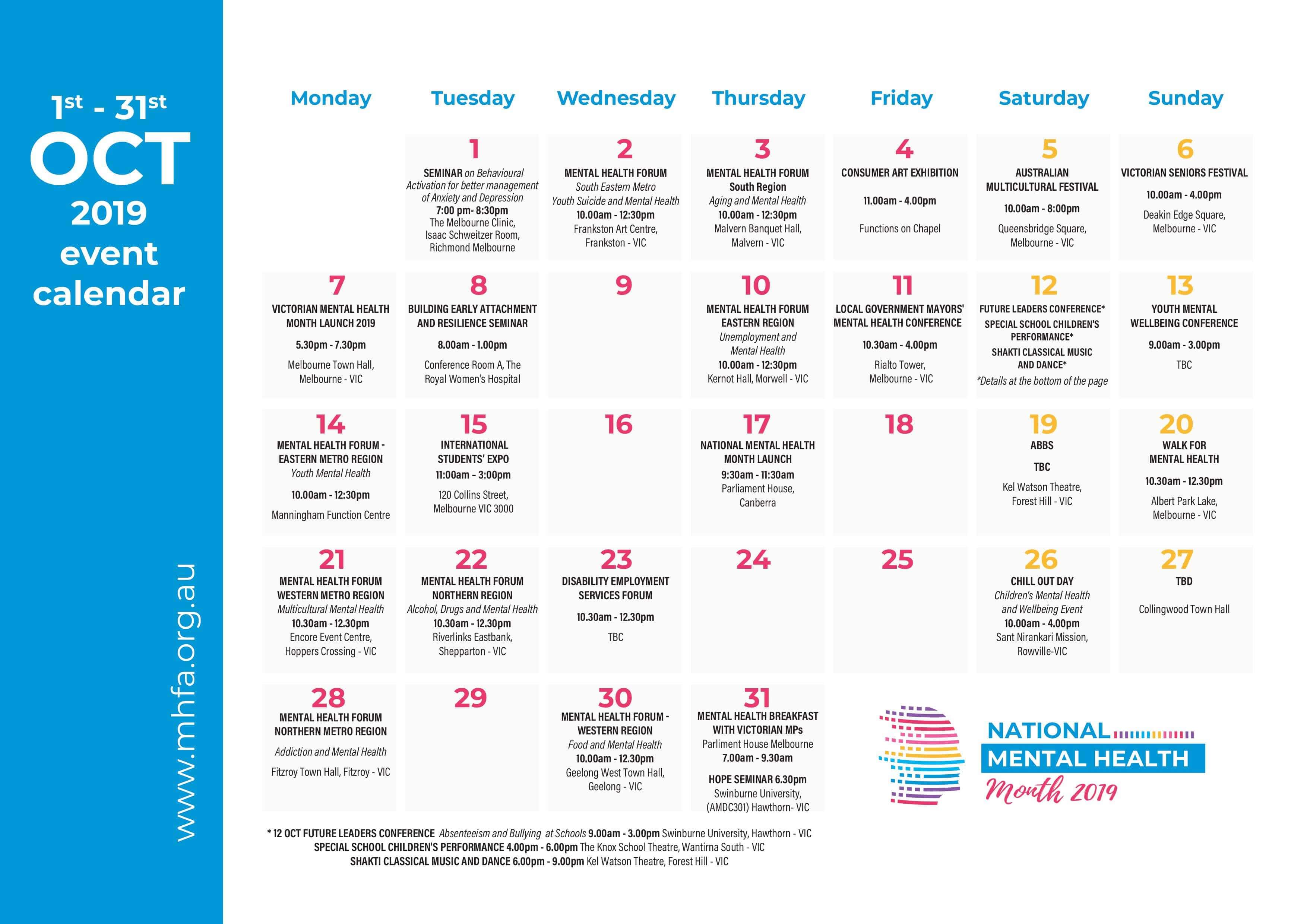 To begin the proceedings of the National Mental Health Month Awareness Campaign, we are organising a national launch in Canberra during on the 17th of October. This will be held during a parliamentary sitting week, involving Federal Parliamentarians, State-wide Mental Health Ministers, Lord Mayors of Australia, key Mental Health Organisations and much media attention.
Last year, one of our most successful events was the Mental Health Wellbeing Walk around Albert Park Lake, attracting thousands of walkers supporting our quest to raise more mental health awareness. During the National Mental Health Month Awareness Campaign, we have organised mental health wellbeing walks across all states and territories on the same day and time. We anticipate this event to be very successful and reach out to many Australians of many cultural backgrounds. This was a dream of fellow director, Mr Myles King OAM. We are very proud to have this dream of his being achieved this year and I am honoured to be able to coordinate this. I encourage as many fellow Australians as possible of all ages to support this awareness campaign and register for the walk occurring in your state. Those who are interested can visit our website; https://walkformentalhealth.azurewebsites.net/
Another key event during National Mental Health Month 2019, will be the first ever National Councillors' Symposium. The aim of this event is to bring together all Mayors and Councillors in Australia to discuss preventative mental health measures, how to provide better mental health services to residents within their respective areas as well as stigma reduction. A specific focus will surround youth mental health issues.
Apart from the Mayors' Symposium, another program will be the Future Leaders Program. The topic of this program revolves bullying and absenteeism in schools and what measures can be taken to prevent and resolve the consequences of these major issues. As bullying in schools is a major trigger for mental health issues among students, the Foundation believes this is an appropriate topic for the students to discuss during the program. We are very excited to have the keynote international speakers, Dr Bhagiaji from Indian and Professor Dr Basseer Jeeawody, the President and Founder of the Emotional Wellbeing Institute – Geneva, to share their experiences with year 10-12 students who attend.
Apart from these events, the Foundation will host an Australian Multicultural Festival consisting of
music, dance on 5th October and many other cultural events during this month. Our intention is to bring together individuals of all different cultures and nationalities to show solidarity against mental health issues. We urge performers to register and showcase their talents for a very successful event.
National Mental Health Month 2019 consists of a plethora of events across Australia, to attract as many
individuals to get involved as possible. We anticipate a very positive mental health awareness campaign and the first of many to come. The Foundation believes with each year, our work can raise more mental health awareness and reduce the frequency of debilitating mental health illnesses many Australian's struggle with. I thank all my board members, staff members, volunteers and well-wishers of the Foundation for their hard work and dedication towards organising all the events within this year's National Mental Health Month awareness campaign. With your support, we can achieve many great things for this Nation's future regarding the reduction of mental health issues and the stigma that shadows them."
For more information, please visit https://www.mhfa.org.au/